2018 started off on a high note after tremendous stock market growth in the previous year. However, the strong start was followed by a period of volatility with mounting trade tensions and international politics playing a role in investor confidence. Rising rates have also had some impact on the market.
7 of the Biggest Mistakes People Make When Choosing a Financial Advisor Learn More
The second half of the year has been much less volatile, and we are now in a stage of growth. By all metrics, we're still in a strong bull market.
Increasing prices can help to highlight stocks that might not be in your portfolio. The news this week has centered around recent strong growth, and the sectors that have been driving it. Information Technology has been the undisputed leader in August.
For the month, Information Technology has had 6.0% returns, higher than any other sector. It has also had the best growth out of any sector in 2018, with 20% returns so far.
The following are three tech related stocks that have contributed to August's wave of growth and success.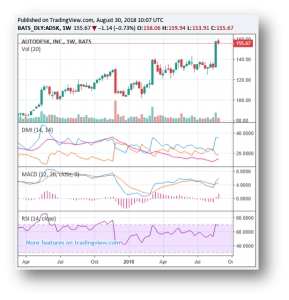 Autodesk Inc. (NASDAQ: ADSK)
Autodesk is a software development company with a leading market presence both in the United States and around the world. This company produces the industry standard AutoCAD software, a computer aided design program which is used by engineers, graphic designers, infrastructure planners, architects, project managers, and a range of other professionals. In recent years, the company has continued to develop its AutoCAD software products, and now offers both mobile and web app versions of its main PC software.
Autodesk's commanding market position as well as its continued innovation and expansion of its software suite has led to strong financial performance in 2018. In the company's most recent quarterly report, it increased revenue from $501.8M to $611.7M (year on year comparison). Income losses were greatly reduced. Total sales revenue for FY2018 increased 1.33%, while gross income increased 4.67%.
Autodesk isn't the hardest hitter in terms of total fiscal growth, but the company has strong leadership and is successfully transitioning to offer software as a service, as well as traditional software licenses. Autodesk's undisputed position as the CAD market leader makes the company a strong option to add to an already stable portfolio.
Key Data:
1 Year Stock Price Growth: 00%
YTD Stock Price Growth: 5%
3 Month Stock Price Growth: 58%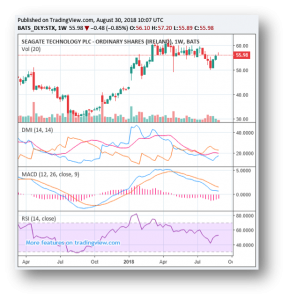 Seagate Technology PLC (NASDAQ: STX)
Seagate is a technology company that produces hard disk drives, solid state drives, and other storage solutions for consumer, enterprise, and OEM markets. While investors have been slightly cautious on the stock in the last three months, performance over August has been strong, with a 4.79% increase in stock price.
Seagate is a compelling stock because it operates in an industry where other companies are also experiencing rapid growth. It supplies storage solutions to large OEM manufacturers like HP, Lenovo, and similar companies. Seagate also has a strong presence in the market for server storage, which is increasingly growing thanks to the rapid adoption of cloud technologies.
For the 2018 fiscal year, Seagate reported increased revenue of 3.38%. Gross income increased by 6.53%, and while this was down on the previous year, it still indicates strong fiscal management and continued stability for the company. Seagate is ideal for a smaller percentage holding in a diversified portfolio.
Key Data:
1 Year Stock Price Growth: 55%
YTD Stock Price Growth: 80%
3 Month Stock Price Growth: -0.66%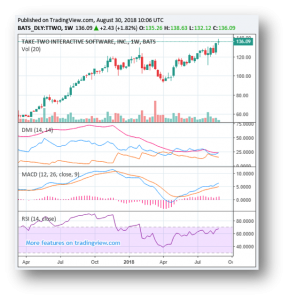 Take-Two Interactive Software Inc. (NASDAQ: TTWO)
Take-Two Interactive develops, markets, and publishes video games. The company wholly owns Rockstar Games, a developer that has produced the highest grossing video games of all time. Grand Theft Auto V, the flagship game of both Rockstar and Take-Two, holds the record of being the most profitable entertainment product ever released. 95 million copies have been sold since 2012, and revenue for the game totaled $6B by April 2018. Take-Two revenue in FY2018 was $1.79B, up 0.74% on the previous year. The company's business is cyclical and relies heavily on new game releases.
Investor confidence is high this August, as the company prepares to release Red Dead Redemption 2 in October 2018. A significant online component of this game will bring additional monetization on top of base unit sales. The game is currently the most anticipated release in the video game market.
Investors are increasingly turning to video game companies for portfolio diversification and Take-Two interactive is one of the most profitable companies that can be considered today.
Key Data:
1 Year Stock Price Growth: 17%
YTD Stock Price Growth: 97%
3 Month Stock Price Growth: 42%
All information is based on current and historical market data, as well as publicly available financial data. As with any financial decision, your own research is important. Stock market outcomes can never be 100% accurately predicted. Familiarity with historical data, individual industries and individual stocks is key to developing a robust portfolio. Note that stock prices can fluctuate rapidly during trading sessions.
The reports, research and newsletter
are based on current and historical market data, as well as publicly available financial data.
They are intended to be a starting point for investors. They do not provide every material fact about a company or industry, nor are they recommendations to buy or sell. The writers and the company make no warranties or representations as to the accuracy of these reports.   You should NOT rely solely upon the information or opinions read in the content. Rather, you should use the content as a starting point for doing independent research on the independent analysis and trading methods in the content. The content is impersonal and does not provide individualized advice or recommendations for any specific reader or individual portfolio. By accessing this website you have agreed to our disclaimers and
privacy policy.
The reports, research and newsletter
are based on current and historical market data, as well as publicly available financial data.
They are intended to be a starting point for investors. They do not provide every material fact about a company or industry, nor are they recommendations to buy or sell. The writers and the company make no warranties or representations as to the accuracy of these reports.   You should NOT rely solely upon the information or opinions read in the content. Rather, you should use the content as a starting point for doing independent research on the independent analysis and trading methods in the content. The content is impersonal and does not provide individualized advice or recommendations for any specific reader or individual portfolio. By accessing this website you have agreed to our disclaimers and
privacy policy.